Do you have a passion for crafting? Are you looking for a way to make some extra money? If so, you may be interested in starting an online craft business. It can be a lot of fun, and it's a great way to share your creations with the world.
In this article, we will discuss how to start selling crafts online. Let's get started!
1. What Do You Need To Start Selling Crafts Online?
You don't need much to get started selling crafts online.
A computer with internet access is all you need to create an online store. You can also use a smartphone or tablet if that's all you have.
You'll also need some craft supplies and a way to take pictures of your products. A digital camera or even a smartphone will work fine for most product shots.
What crafts can I make at home and sell?
And of course you need something to sell. If you're not sure what kind of crafts you want to sell, start by looking through your collection of handmade items.
There are a number of different crafts that you can make at home and sell. One option is to create your own line of jewelry. This can be done by purchasing supplies from a local craft store and then designing and creating your own unique pieces.
Another option is to design and create home decor items such as candles, picture frames, or vases. These can be sold either online or at craft fairs or other events.
If you have a talent for sewing, you could also create and sell items such as clothes, bags, or quilts.
Do you have any unfinished projects that you could sell? Are there any items that you no longer use but are still in good condition? These are all potential products for your website or store.
Another option is to find craft supplies that you can use to make new items. If you're good at knitting, for example, you could sell handmade scarves and hats.
Or if you like working with clay, you could sell ceramic mugs or plates. There are endless possibilities when it comes to selling crafts online.
Do you collect stones or crystals? Many creative individuals are turning these precious stones into works of art and craft. Even seemingly ordinary stones can be polished, shaped, and turned into magnificent creations that would make an excellent addition to any home decor.
Wherever you find your stones or crystals, with a bit of creativity and artistry, you can harness the potential to turn them into something worth selling such as Tiger's Eye jewelry.
A die cut machine can be a great tool for anyone looking to create crafts to sell at home. With a die cut machine, you can easily create intricate shapes and patterns out of paper, fabric, or even wood. You can use these shapes to create cards, scrapbook layouts, stickers or even 3D objects.
Best of all, die cut machines are relatively inexpensive, making them a great option for anyone looking to get started in the world of home craft sales.
There are many other options as well, so take some time to explore what interests you and see what crafting ideas you can come up with. With a little effort, you can turn your passion for crafting into a profitable business venture.
Setting up Your Online Store
Once you've decided what kind of products you want to sell, it's time to set up your online marketplace or store. You can use an existing marketplace like Etsy or Amazon Handmade, or you can create your website.
If you're using a marketplace, be sure to read the terms of service carefully so that you understand how fees and other charges work.
Creating your website is a bit more work than using a marketplace, but it also gives you more control over how your business runs.
You'll need to register a domain name and find a web hosting provider. Once you've done that, you can use a platform like WordPress or Shopify to create your store.
Read More: How to Start a Blog and Make Money in 2023: Easy 9 Steps to Success
No matter which option you choose, be sure to spend some time creating attractive product listings. Use high-quality images and well-written descriptions to give potential customers an idea of what they're buying.
And don't forget to include your contact information so that people can get in touch with you if they have any questions.
2. How To Set Up An Online Shop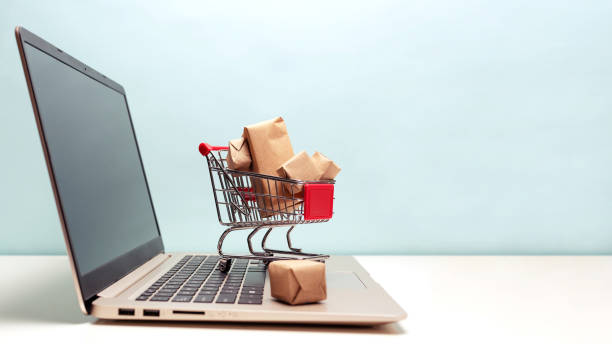 If you're interested in selling crafts there are a few things you need to do to get started:
You'll need to create an online shop. This can be done through several different platforms, such as Etsy, Shopify, or even eBay.
Start listing your products. Be sure to take clear and well-lit pictures of your products, and write detailed descriptions that will help potential customers understand what they're buying.
Consider setting up social media accounts – TikTok or Facebook for your business – this will give you another avenue to reach potential customers.
Once you have your shop set up and you're starting to get some orders, it's important to keep up with your inventory and make sure you're able to fulfill all of your orders promptly.
Customers who have a positive experience with your business are more likely to come back and buy from you again, so good customer service is essential.
If you're selling physical products, it's also important to package them well and ship them securely, to avoid any damage or delays.
Selling crafts online can be a great way to make some extra money, but it takes some time and effort to get started.
With a little bit of planning and perseverance, though, you can build a successful online business.
3. Marketing Your Shop And Products
Now that your shop is set up and you've started stocking it with products, it's time to start thinking about how you're going to get the word out. There are several ways to market your online craft business:
Social media – This is probably the most effective (and free!) way to reach potential customers. Create accounts on Twitter, Facebook, and Pinterest, and start sharing photos and links to your items. Be sure to use relevant hashtags so people can easily find you.
Email marketing – Email can be a great way to keep in touch with existing customers, as well as reach new ones. Send out periodic newsletters with information about new products, sales, or coupon codes.
Craft fairs – Even though your business is online, that doesn't mean you can't participate in craft fairs. This can be a great way to get exposure and make some sales.
4. Crafting A Compelling Product Description
The next step is to write a compelling product description. This is where you'll sell your item. You want to be clear, concise, and persuasive.
The best way to do this is to focus on the benefits of your product. What will it do for the customer? How will it make their life better?
Think about how you can show, not tell, those benefits in your description. Use images, videos, or infographics to help get your point across.
And don't forget to use strong calls to action telling the reader what you want them to do next.
Try out an AI Copywriting tool to get started on those awesome descriptions.
5. Handling Orders And Shipping
After you've built up a following for your crafts and have decided to start selling them online, you'll need to think about how you'll handle orders and shipping.
You'll need to decide how you want to take payments, what kind of packaging you'll use, and how you'll get your products to your customers.
Shipping can be one of the most expensive parts of selling your crafts online, so it's important to plan and factor in the cost of shipping when setting your prices.
There are a few different ways to take payments for online orders. PayPal is a popular option because it's easy to set up and use, but there are also other options like Stripe or Square.
You'll need to decide which payment method you want to use and how you'll set it up on your website.
Packaging is another important consideration when selling your crafts online. You'll need to find packaging that is both protective and attractive so that your products arrive at your customers' doorsteps in perfect condition.
It's also a good idea to include branding on your packaging, such as your logo or website URL, to help promote your business.
Finally, you'll need to choose a shipping method that meets the needs of both you and your customers.
USPS is a popular option for craft sellers because they offer low-cost shipping options, but there are other options like UPS or FedEx.
You'll need to decide how much you're willing to spend on shipping and how fast your customers need their orders.
Conclusion | How To Start Selling Crafts Online?
Now that you know how to start online selling crafts, it's time to get started! There are a few things to keep in mind when starting your store or Etsy shop:
Make sure your products are high quality and well-made even handmade crafts need to be of quality
Take great photos of your products
Write compelling descriptions of your products
Promote your store through social media, your own website and other online channels
FAQs | How To Start Selling Crafts Online?
Q: What are some tips for promoting my online store?
A: There are several ways to promote your online store, including through social media, search engine optimization (SEO), and paid advertising.
Q: How do I know if my products are high quality?
A: There are a few things you can do to ensure that your products are high quality:
Use high-quality materials
Take great photos of your products
Write compelling descriptions of your products
Q: How often should I update my store?
A: how often you update your store is up to you, but we recommend at least once a week. This will help ensure that your customers always have something new to see when they visit your store.
Q: What if I don't have any crafty skills?
A: Don't worry! You don't need to be a crafty person to sell handmade crafts online. There are plenty of people out there who are looking for unique, handmade items, even if they're not necessarily "crafty" themselves.
As long as you have high-quality products and great photos, you'll be able to find success selling handmande crafts online.
Latest posts by Jo Larsen
(see all)